DH-300T test sieve shaker is mainly used for granular, granular structure of powder materials, Liquid volume solids and debris filtering and detection, mainly used in various laboratories, laboratories, articles screening, screening, grading and other testing department, in order to ensure a standard of raw data detection and accuracy, the following is standard sieve use steps:
1. DH-300T test sieve shaker places in horizontal, make sure the power and nameplate requirements consistent and make sure the ground; vibrating part can not be in contact with other objects; ministries bolts are tightened.
2. According to the material tested and the appropriate criteria to choose the screen frame
3. The standard screen frame by aperture from small to large, in turn stacked onto the test sieve machine vibration platefrom bottom to top.
4. The test material was placed in the top box standard sieve, covered with standard sieve cover a total height adjustment lever to adjust the height according to standard sieve box, and then use the plate and lock nut on the standard screen frame positioning pressing (Note: both sides of the force should be consistent)
5. According to the material properties and feeding amount, setting running time on the timer setting, then turn on the power switch, the standard screen began to work.
6. After the standard screen stops , unscrewing the locking nut, removing the plate, removing the standard screen frame carefully .
7. Cut off the power box.
Common specifications for standard sieve diameter is 200mm , Dahan standard sieve mesh material is divided into three, woven wire mesh face the most widely used, mesh from between 2.36 mm to 0.02 mm; punching plate main application screen large mesh, there are two kinds of hole square hole; electroformed mesh is mainly used for high-precision applications, can be done within each cell are average error range.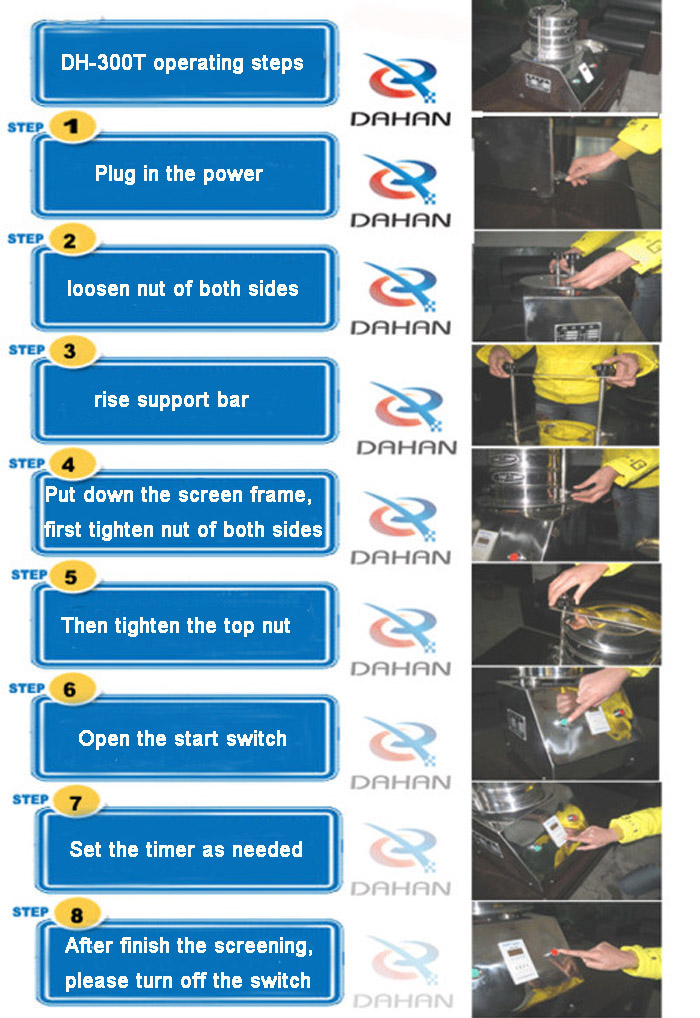 http://www.cnvibratingsieve.com/products/80.html